#GivingTuesday has come and gone, but the spirit of giving lives year-round.  As we bring this year to a close, consider those in need - support your local food bank, make a contribution to the bell ringer on the corner for the Salvation Army, consider a donation to those causes that are close to your heart.  Anything you give goes to help someone who needs it the most..
Thanks to all of our supporters who have been with us through our young journey.  We pledge to continue to help our local graduates reach their goals and fulfill their dreams.
---
---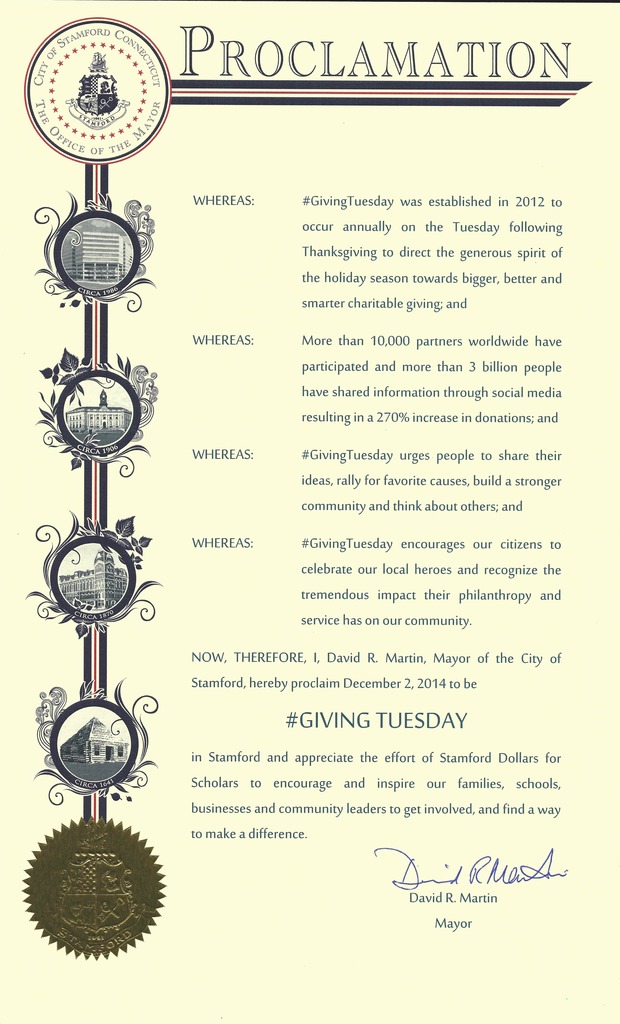 Mayor David R. Martin Proclaims
#GivingTuesday in Stamford
Mayor David R. Martin has issued a Proclamation recognizing and declaring December 2, 2014 as #GivingTuesday for the City of Stamford.  He encourages the community to support those non-profit organizations which help our community.  Stamford Dollars for Scholars is specifically recognized for its active role in supporting our local community by providing post-secondary education scholarships to Stamford students.  Click on the image to see the entire document.
---
---
vineyard vines® 10/10 Event 
a Big Success!
Thanks to vineyard vines® in Greenwich for hosting their "10/10 Event".  It was a great day of shopping and everyone was a winner.  Cathy Drenckhahn and Denise Mangano were on hand to talk about our mission and to hand out information.  Shoppers received a 10% discount and Stamford Dollars for Scholars will receive $1293 from vineyard vines®. Community support is what drives our success.
---
---
Congratulations to the Winners
of our Summer Raffle
Stamford Dollars for Scholars congratulates our winners of the 2014 Summer Raffle:
1st Prize:  $2000 American Express gift card
2nd Prize:  $500 Apple Store gift card
3rd Prize:  $200 Splash Car Wash gift card
We raised over $10,000 to support our General Scholarship Fund.  Thanks to all who supported us by buying tickets.  Your contributions make a difference.
---
---
Shop Online and Support Stamford Dollars for Scholars
Stamford Dollars for Scholars (SD4S) is now registered with AmazonSmile.  When you go to Smile.Amazon.com and make a purchase, a portion of that amount will be contributed by Amazon to SD4S. Every purchase, everytime.  Now, you can support Stamford high school students while purchasing gifts, household items, anything!  And it does not change your cost! This is a program run by and paid for by Amazon.  Click on the Amazon logo on the left to register Stamford Dollars for Scholars as your charity of choice.
---
---
Stamford Dollars for Scholars event raises nearly $40K for 2015 Scholarships for Stamford graduates
Stamford Dollars for Scholars (SD4S) third annual golf and dinner fundraising event on September 22nd broke all records- and set the stage for the organization to provide even more scholarships to 2015 high school graduates from Stamford.  The C. Anthony and Jean Whittingham Tee it Up For Scholars Golf Tournament raised nearly $40,000 - and beyond its financial success, it was great fun for all who attended.  104 golfers enjoyed perfect golf weather, incredible food, a Pilates stretch with Hazel Katz, and dinner entertainment featuring comic magician Bill Herz. (more)
---
---
Stamford Dollars for Scholars®
Announces Board Changes
Stamford Dollars for Scholars (SD4S), a local organization providing scholarships for students who live or attend high school in Stamford, announced officer and director changes to its Board effective September 1st.
New officers include Gary Freeman, former Vice President serves as President of the Board, Cathy Drenckhahn, former Secretary shares the role of Vice President with fellow Board member, Denise Mangano, and Brian Wheelin, Board member now serves as Secretary.
With their initial terms expiring, Tony D'Amelio and Jim McClafferty, co-founders and co-Presidents of Stamford Dollars for Scholars believed the time was right for electing new Board leadership. Jim will remain as a director on the Board, and Tony will be a member of the Executive Committee, serving as President Emeritus, and will continue his involvement in the organization's many outreach, community and fundraising activities.
Additionally, Deborah Golden and Scott Kuppersmith were elected as two new directors to the Board expanding its size to 14 members.(more)
---
---
Stamford Dollars for Scholars
Third Annual Scholarship Ceremony

Pictured From left to right: Jim McClafferty, Co-President of Stamford Dollars for Scholars, Dr. Robert Goldman presenting the Goldman Orthodontics Scholarship for Science to Julia Schaffer, and Tony D'Amelio, Co-President of Stamford Dollars for Scholars. Julia is one of the 21 Class of 2014 graduates receiving scholarship awards from Stamford Dollars for Scholars. She is a 2014 graduate of Westhill High School who will attend Cornell University with a major in Chemistry/Physics. 
Monday, June 9th was a night of celebration for 21 local high school graduates from the class of 2014.  A night devoted to celebrating their accomplishments at the third annual Stamford Dollars for Scholars awards ceremony where these graduates received scholarships to pursue education beyond high school.
This year's scholarship recipients included high school seniors from Westhill, Stamford and Trinity Catholic, AITE, Stamford Academy, and a Stamford graduate from Regis HS in New York.  The following students (listed alphabetically) received scholarships: Joseph Aunce, Bridget Collier, James Croft, Asia Currie, Hannah Dougherty, Sean Epp, Charlie Gorski, Michael Hoherchak, Claire Howlett, Christopher Marcario, Wendy Marroquin, Katherine Salazar , Timothy McMullen, Samuel Michelson, Joselyn Ordonez, Matthew Pascale, Jonathan Rich, Linda Rivera, Nicholas Robinson, Julia Schaffer, and Jessica Stietzel. (more)
---
---
There are many ways to support Stamford Dollars for Scholars - volunteer your time, make a donation, create a scholarship for you company, organization or loved one.
To learn more about Stamford Dollars for Scholars and how you can participate as a donor, a volunteer, or a potential award recipient, contact us at info@sd4s.org
Our mailing address is P.O. Box 3559 Stamford, CT 06905.