Our mission is to mobilize the local community to raise funds and provide scholarships to make post-secondary education possible for deserving students.
We were conceived around a simple idea: together we can step in and help local students achieve their educational goals. There's no greater gift we can give our student neighbors-in-need than access to the tools to create a brighter future. Doing so tells them that we take pride in their determination and share their dreams.
---
---
---
Announcing the First Dr. Irving Fradkin
Legacy Award Winner
In 1958, optometrist Dr. Irving Fradkin envisioned that if everyone in his community gave just one dollar to a scholarship fund, it would be enough to help every student in town attend college. From that simple but profound idea, Dollars for Scholars was born - and in 2020, to honor that vision, Scholarship America created our most significant Dollars for Scholars award to date: The Dr. Irving Fradkin Legacy Award.

Today, we are proud to announce the first ever Dollars for Scholars to be honored with the Fradkin Award is Stamford Dollars for Scholars!

Stamford Dollars for Scholars was chosen from a distinguished group of nominees in honor of its exemplary work in building community partnerships and providing impactful student support - a vital part of our mission to make a college education possible for all students. As part of this award, we will receive $10,000 from Scholarship America to advance our student support efforts.

Click below to see the moment Gary Freeman, past president and social media volunteer, was informed by Robert C. Ballard, president and CEO of Scholarship America, that we had been selected for this award: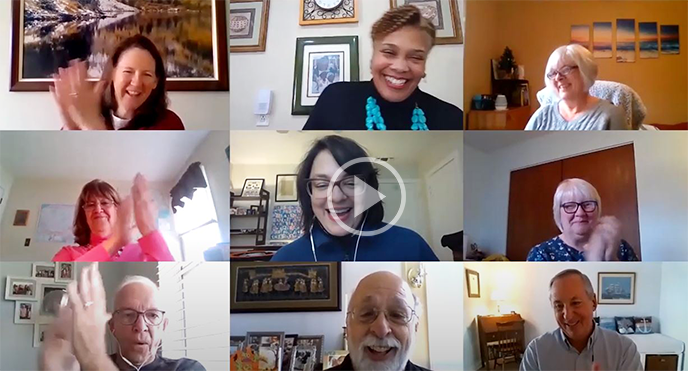 Our president BJ Bumactao was delayed in joining this announcement but was as happily shocked as Gary. With so many worthy Dollars for Scholars chapters to consider nationwide, it is heartwarming to know that the dedication put in by so many volunteers, donors and sponsors supporting our growing community has been recognized on a national level.

Our plan is to use these funds to develop our student outreach and provide supporting services in pursuit of continued education after high school graduation. Dr. Fradkin believed in community first and foremost. We will honor his legacy by assuring that we remain vigilant to that purpose.
---
---
Congratulations to our 2020 scholarship recipients. Due to the current health crisis, we will not be able to meet in person to present the awards and meet with you and your scholarship sponsors. Thank you all of our scholarship sponsors who supported us in 2020!
Click to view our student profiles 
---
---
Help us create a very special scholarship. All donations received through this campaign will create a single scholarship for a local graduating high school senior in 2021 who will become the first generation in their immediate family to pursue higher education. Our goal is to raise $2,000 by February 2021. The scholarship will be awarded in June 2021.
Or Text "SD4S-ONE" to 44-321
to receive a link to our donation page
---
---
You can get additional information by phoning 203-885-SD4S (7347) 
Our mailing address is P.O. Box 3559 Stamford, CT 06905
People have visited our website