Our mission is to mobilize the local community to raise funds and provide scholarships to make post-secondary education possible for deserving students.
We were conceived around a simple idea: together we can step in and help local students achieve their educational goals. There's no greater gift we can give our student neighbors-in-need than access to the tools to create a brighter future. Doing so tells them that we take pride in their determination and share their dreams.
---
Bowling Event Raises $4,500

We held another Corporate Challenge event at RPM Raceway in Stamford. Our title sponsor was the Shantz Mantione Group (UBS Private Wealth Management). The event featured 12 teams and raised more than $4,500 for our 2022 scholarships.

In addition to the $4,500 raised at the event, the Shantz-Mantione Group will be sponsoring scholarships totaling $7,700 as a result of their sponsorships of Stamford Dollars for Scholars events in 2021.

Silvermine Plow won the Best Bowling Team trophy (and local bragging rights!!!). Their Team Captain (Silvermine Plow owner) Jon Quick also won the best individual bowler trophy. Two time previous champions Lalor Attorneys were second and defending champions UBS Volunteers finished third. Past president BJ Bumactao accepted the "Worst Bowling Team" trophy on behalf of Speed Printing and Graphics who finished in 12th place.

Additional thanks to Lalor Attorneys and CMIT Solutions who were our Lane Sponsors. Raffle prizes were donated by Against the Grain (in New Canaan), Cafe Silvium (Stamford) and TomatoTomato (Stamford). Raffle winners were Mike Soccio and Bill Lalor.
---
---
A Great Day for Golf and
Local Scholars
On September 20, 2021 we held our annual Tee It Up for Scholars Golf Tournament in honor of Andrew and Michael Whittingham at the Rockrimmon Country Club in Stamford, CT. It was a wonderful day that raised over $30K to create scholarships in 2022. The golfers enjoyed a superb course and all attendees were treated to the five star hospitality provided by the Rockrimmon staff. Thanks to all the volunteers who helped make this a success, the sponsors who supported us, and of course all of our guests who believe in education. And Save The Date for next year's golf tournament on Monday September 19, 2022.
---
---
The Louisa C. Calka Memorial Scholarship

In honor of Louisa Calka, who passed away recently, her family has established the Louisa C. Calka Memorial Scholarship through Stamford Dollars for Scholars. In lieu of flowers, they ask that donations be made to the following website: www.tinyurl.com/sd4s-4-calka. All donations will be applied to a scholarship in Louisa's name in 2022. We are honored to have been asked to support their family at this time.
---
---
Crane Fund for Widows and Children Present Check for $3,000
Crane Fund for Widows and Children presentation of the check for their $3,000 scholarship for 2022
to Mike McNamara (middle) and David McCall (left) by Danielle Kurkjian,
Manager Philanthropy, Sustainability and Equality Initiatives.
Stamford Dollars for Scholars is pleased to announce that the Crane Fund for Widows and Children has made a grant of $3,000 to be applied to their 2022 scholarships
The Trustees of the Trust known as the Crane Fund for Widows and Children are authorized under terms of the Trust documents to grant assistance to provide education as follows:
for needy and deserving widows and children of men who, at their death, have left their widows and children without adequate means of support or...​
​
deserving wives and/or children of men upon whom they are dependent for support but, because of age or other disability, are unable or, for other reason, fail or neglect to adequately support their respective wives and/or children.
Terms and requirements for specific scholarships under this grant will be determined in January 2022 ahead of our scholarship application period.
The Crane Fund for Widows and Children was founded as a charitable trust in 1914 under the laws of the State of Illinois. The Fund provides grants to charitable agencies serving the needy and disadvantaged and to educational institutions in support of scholarships for financially needy students whose parents are deceased, or, for other reasons, are financially unable to provide for their children's education.
The Crane Fund for Widows and Children is administered in such a way that most contributions are channeled through the individual operating units of Crane Co. and its subsidiaries and are made to organizations serving the local communities of these operations. Crane Co., formerly a plumbing business, now manufactures highly engineered materials for aerospace and other industries. 
In 2020, the Crane Fund for Widows and Children and the Crane Foundation collectively disbursed approximately $2.3 million to more than 500 charitable organizations and educational institutions around the world.
---
---
We Awarded $59,000 at our
Ceremony held on June 9, 2021
Seventeen applicants received scholarships, totaling $59,000. The recipients are graduating from The Academy of Information Technology and Engineering, Stamford High School and Westhill High School. Eleven scholarships are sponsored by members of the community in the name of a company, organization or an individual. Criteria, scholarship amount and the term of the scholarship is set by the donor.
The organizations and professionals sponsoring 2021 scholarships through Stamford Dollars for Scholars are: The Wise Family Honoring Robert B. Wise  ($20,000), The Whittingham Family Foundation ($8,000), The Shantz Mantione Group ($6,000), The Heron Family through the Nancy J. Heron Endowment, ($2,000), Mayor David R. Martin Honoring Judith Martin ($2,000), UBS Volunteers ($2,000), The Family of John and Betty Burkhardt ($1,500), Tony and Joanna D'Amelio Honoring Nina Seward  ($1,500), Dr. Robert B. Goldman ($1,000), Stamford Business Network ($1,000), and The TEJ Foundation ($1,000).
In addition, six Stamford Dollars for Scholars scholarships were awarded. These scholarships are made possible by the many generous donations from those in the Stamford community and the organization's other fundraising activities throughout the year. This year, we awarded a special scholarship honoring longtime supporters Andrew and Michael Whittingham with a $1,000 scholarship. We are also proud to provide a $2,000 scholarship with the support of Scholarship America in honor of Dr. Irving Fradkin, who founded Dollars for Scholars in 1958. Finally, we awarded two $4,000 4-year scholarships and two $1,000 one-year scholarships.
Click here to see our recipients
---
---
Announcing the First Dr. Irving Fradkin
Legacy Award Winner
In 1958, optometrist Dr. Irving Fradkin envisioned that if everyone in his community gave just one dollar to a scholarship fund, it would be enough to help every student in town attend college. From that simple but profound idea, Dollars for Scholars was born - and in 2020, to honor that vision, Scholarship America created our most significant Dollars for Scholars award to date: The Dr. Irving Fradkin Legacy Award.

Today, we are proud to announce the first ever Dollars for Scholars to be honored with the Fradkin Award is Stamford Dollars for Scholars!

Stamford Dollars for Scholars was chosen from a distinguished group of nominees in honor of its exemplary work in building community partnerships and providing impactful student support - a vital part of our mission to make a college education possible for all students. As part of this award, we will receive $10,000 from Scholarship America to advance our student support efforts.

Click below to see the moment Gary Freeman, past president and social media volunteer, was informed by Robert C. Ballard, president and CEO of Scholarship America, that we had been selected for this award: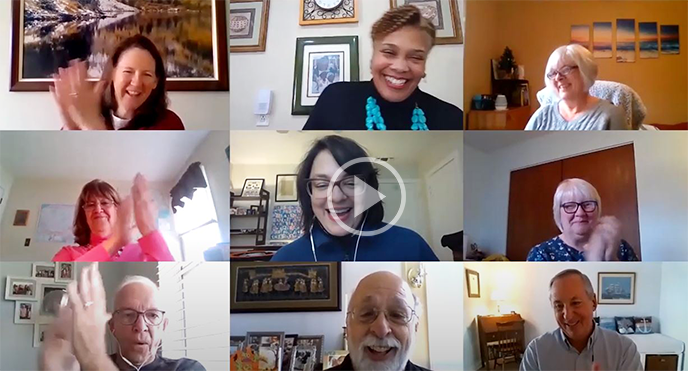 Our president BJ Bumactao was delayed in joining this announcement but was as happily shocked as Gary. With so many worthy Dollars for Scholars chapters to consider nationwide, it is heartwarming to know that the dedication put in by so many volunteers, donors and sponsors supporting our growing community has been recognized on a national level.

Our plan is to use these funds to develop our student outreach and provide supporting services in pursuit of continued education after high school graduation. Dr. Fradkin believed in community first and foremost. We will honor his legacy by assuring that we remain vigilant to that purpose.
---
---
You can get additional information by phoning 203-885-SD4S (7347) 
Our mailing address is P.O. Box 3559 Stamford, CT 06905
People have visited our website